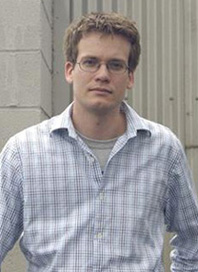 John Green (b. August 24, 1977 in Indianapolis, Indiana) is co-creator of the YouTube phenomenon known as The Vlogbrothers and Brotherhood 2.0. He is older brother to
Hank Green
. John is a novelist who has written four books for young adults as of 2005, as well as co-writing two books. His novels include:
Looking for Alaska
[1]
(2005),
An Abundance of Katherines
[2]
(2006), and Paper Towns (fall 2008). He also wrote a novel with David Levithan called Will Grayson, Will Grayson (Spring 2010) and The Fault in Our Stars (January 10, 2012)
He is made of awesome and survived a hammer attack by Hank, and hopes that one day evolution shall bless us with the puppy sized elephant which will have the evolutionary advantage of being adorable.
Ad blocker interference detected!
Wikia is a free-to-use site that makes money from advertising. We have a modified experience for viewers using ad blockers

Wikia is not accessible if you've made further modifications. Remove the custom ad blocker rule(s) and the page will load as expected.