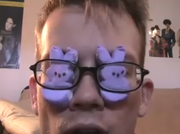 | | | |
| --- | --- | --- |
| Eater | Peeps Eaten | Time Taken |
| Hank | 12.5 | 6 min. |
| John | 12.5 | 3 min. 30 sec. |
| Kurt | 12.5 | 1 min. 30 sec. |
Peeps, or "The Importance of Peeps and Their Constant Recurrence," stem from a punishment John gave Hank, which Hank performed on March 6th, 2007. The rules were to 1) Buy 100 Peeps, 2) Eat as many Peeps as possible within a six minute time limit while discussing genocide in Rwanda 3) Donate the amount of Peeps he fails to eat in dollars to the Brotherhood 2.0 Foundation to Decrease World Suck Levels Worldwide, and 4) Hand the remaining Peeps out to residents of his town. He ended up contributing $87.5 to the fund, having eaten 12.5 Peeps during the punishment.
---
While attempting to distribute the remaining Peeps, Hank found Kurt, the "Punk Rock Nerdfighter," who not only took all the Peeps off his hands, but ate 12.5 Peeps in 1.5 minutes without getting sick.
---
However, Peeps continue to appear throughout B2.0. John also tried the challenge (mostly just because of the competitive factor) on March 9th. At one point, his stomach his "wall of fat" and he admitted defeat. Notably, he ate 12.5 Peeps in only 3.5 minutes, thus beating out Hank's attempt.......... but not Kurt's.
Ad blocker interference detected!
Wikia is a free-to-use site that makes money from advertising. We have a modified experience for viewers using ad blockers

Wikia is not accessible if you've made further modifications. Remove the custom ad blocker rule(s) and the page will load as expected.